Author's John Horvat, Norman Fulkerson Share Solutions for a Better America
Special Presentation to be held on Saturday, Jan. 4 at St. John Cantius Catholic Church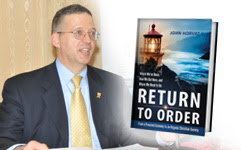 So Come Enjoy An Excellent Saturday Afternoon: A Talk, A Book Signing, Refreshments, Good Company, And Good Conversation.
Family, honor, faith, and positive role models are the most powerful tools we Americans have to reclaim our great country from the throes of economic chaos.
That is the theme of our two distinguished presenters of "Return to Family: Getting Your Family Fired Up About Honor, Role Models, and the Faith." 
The program is free and open to the public, so feel free to invite your friends or forward this email to them (just ask them to please RSVP - - - see below).
It will be held from 12:30 to 3:30 p.m. on Saturday, Jan. 4, 2014, in the Café San Giovanni at St. John Cantius Catholic Church, 825 N. Carpenter St., Chicago.
During the event, John Horvat II, vice president of the American Society for the Defense of Tradition, Family and Property (TFP) and author of Return to Order: From a Frenzied Economy to an Organic Christian Society, and Norman Fulkerson, public relations liaison for the American TFP and award-winning author of An American Knight: The Life of Colonel John W. Ripley, USMC will share their solutions for a better America and launch their recently published books.
The program opens with registration at 12:30 p.m.
At 1 p.m., Horvat will present "Honor Thy Father and Thy Mother: The Key to Bringing America Back to Order," which focuses on what it means to honor parents, why your whole family needs to be fired up with the idea of honor, and how the sense of honor will revitalize society. 
A scholar, researcher, educator, international speaker, and contributor to The Wall Street Journal, FOX News, The Christian Post, The Washington Times, ABC News, C-SPAN and other publications and websites, Horvat will address our nation's challenges from a Catholic viewpoint. 
Drawing on 20 years of research, Return to Order analyzes where America went wrong and what we can do to return the country to a state of well-being.
Following Horvat at 2:15 p.m., Fulkerson, who is a contributing editor of Crusade Magazine, presents "How Role Models Can Inspire the Family: The case of Col. John Ripley USMC," which demonstrates how role models can change family dynamics, invigorate parents, and inspire the hearts of teenagers.
An American Knight, a Military Writers of America 2010 Gold Medal Winner (Biography), draws on Col. Ripley's achievements to inspire a hero-starved society to become true Christian Americans.
Signed copies of Return to Order, which normally retail for $21.95, will be available for $20 and autographed copies of An American Knight, which retail for $14.95, will be sold for $12 at the event. However, attendees can purchase both for only $25. For more information on either book, visit www.ReturnToOrder.org.
Remember, the event is free, but reservations are appreciated since space is limited. 
Those who RSVP will be entered in a drawing for a free copy of each book (must be present to win).
To RSVP, email our Fatima Custodian Rex Teodosio at rexteodosio@tfp.org or call 717-903-5874.
                                                            ---
UPDATE: Friday, December 20, 2013; 8:19 AM: For two days running in December, Return to Order: From a Frenzied Economy to an Organic Christian Society —Where We've Been, How We Got Here, and Where We Need to Go by John Horvat II has ranked #1 in the Amazon Kindle Store's Social Sciences and Americas categories in the United States.
In Canada and Germany, it ranked #1 in the Social Sciences category, and in the United Kingdom, it ranked #1 in the Americas category and #3 in Social Sciences. The hardcover version of the book also ranked in the top 100 in Social Philosophy in the United States.
"What this tells me is that the world is hungry for the book's message," says Horvat, who is vice president of the American Society for the Defense of Tradition, Family and Property. "The economy is on course for self-destruction as a result of ignoring our moral compass, which ultimately keeps everything in balance. Our blind embrace of an economy driven by the pursuit of instant gratification, regardless of the consequences, is unsustainable and has thrown us into a state of socioeconomic chaos. Return to Order tells readers how we can get back on track."