In the ground-breaking book, Catholic scholar John Horvat II explains the root cause of our moral and economic crisis.
Backed by nearly twenty years of research, he offers a real solution for America's alarming decline: a Catholic organic society.
For the next 3 days, Return to Order is entirely yours for only $18.65 That's a 15% discount off the regular price, and the shipping is on me. Plus you get a large brass Saint Benedict Medal at absolutely no extra cost (a $12.95 value). 

15% Discount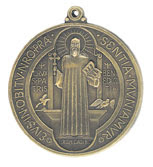 2" dia. / 1.3 oz
No cost
(400 pages, 49 color and 7 B&W illustrations, hard cover with dust jacket, and color bookmark.)
In this book, you will:
- find a depth of analysis that clearly explains the moral roots of the crisis
- learn the principles of wisdom that can stop the decay of America, including abortion and its terrible culture of death
- discover the sublime solutions in a truly Catholic vision for America's future
However, if you're not sure if Return to Order is for you, see what eminent Catholics are saying about it:
"Return to Order reminds us that economy and religion are deeply connected, and that, with the family at the center, we can hope to be freed from the frenzy in which our society finds itself.  I highly recommend this book."
Fr. Frank Pavone
National Director, Priests for Life
President, National Pro-life Religious Council
"I hope that this work will receive the attention it so deserves."
The Most Reverend John C. Nienstedt
Archbishop of Saint Paul and Minneapolis
"I highly recommend this book."
Rev. Dr. John Trigilio
Author and President, Confraternity of Catholic Clergy
"This excellent work is an in-depth study of the history and cause of our present-day economic and spiritual crisis,and it gives us a well-reasoned solution
to our plight as well. I am pleased to recommend it."
Most Rev. James. C. Timlin
Bishop Emeritus of Scranton
"This is a remarkable and much needed book …The author has written a work unabashedly calling for an organic Catholic state and society...
James Likoudis, president emeritus, Catholics United for the Faith (CUF)
Every Catholic who really loves America and fights for the salvation of souls needs to read this book. 
Order your copy at a 15% discount here

15% Discount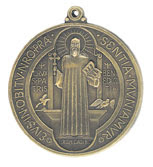 2" dia. / 1.3 oz
No cost
Thank you.
In Jesus & Mary,
Robert E. Ritchie
America Needs Fatima
www.ANF.org
Prayer -- Penance -- Amendment